Neil Young: On The Beach (1974)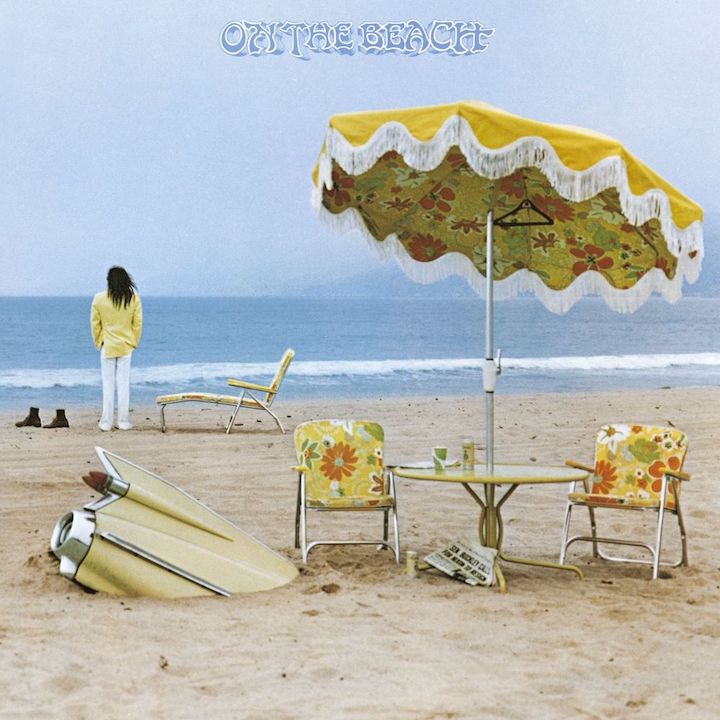 "A studio, you go down the hall and see other people playing. You feel like you're in some kind of complex, like you're a soup. You're cream of mushroom and they're tomato." (Neil Young)
Where: Sunset Sound, Los Angeles & Broken Arrow Studios, San Francisco.
When: Juillet 1974
Who: Neil Young (banjo, guitar, harmonica, vocals, Wurlitzer piano), David Crosby (rhythm guitar, vocals), Graham Nash (rhythm guitar, Wurlitzer, vocals), George Whitsell (guitar), Rick Danko (bass), Tim Drummond (bass, percussion, drums), Billy Talbot (bass), Joe Yankee (bass, harp, tambourine), Levon Helm (drums), Ben Keith (organ, bass, dobro, guitar, drums, steel guitar, slide guitar, Wurlitzer piano, hand drums, vocals), Rusty Kershaw (fiddle, guitar, violin, slide guitar), Ralph Molina (drums, vocals, hand drums), Graham Nash
What: 1. Walk On 2. See the Sky About to Rain 3. Revolution Blues 4. For the Turnstiles 5. Vampire Blues 6. On the Beach 7. Motion Pictures 8. Ambulance Blues
How: Produced by Neil Young, David Briggs, Mark Harman & Al Schmitt
Up: les breaks honky-tonk (1"08 et 2"17) ["Walk On"]... la pedal-steel pastorale de Ben Keith et le piano Wurlitzer de Young ["See The Sky About To Rain"]... le riff folko-grunge de Crosby et le solo économique de Young (1"50) ["Revolution Blues"]... le mélange du dobro de Keith et du banjo de Young ["For The Turnstile"]... le chant hanté de Young et ses soli épileptiques (2"06 et 3"14) ["Vampire Blues"]... la détresse insondable de Young, les trois notes lugubres (0"33), le changement d'accord lumineux (0"50) et les lyrics ("I need a crowd of people / But I can't face 'em day to day (...) I went to a radio interview / But I ended up alone at the microphone") ["On The Beach"]... la ballade désabusée, presque sépulcrale, gentiment pompée sur Bert Jansch, le violon lugubre ["Ambulance Blues"]...
Down: sans attendre du John Paul Jones, la basse vraiment minimale sur certains titres...