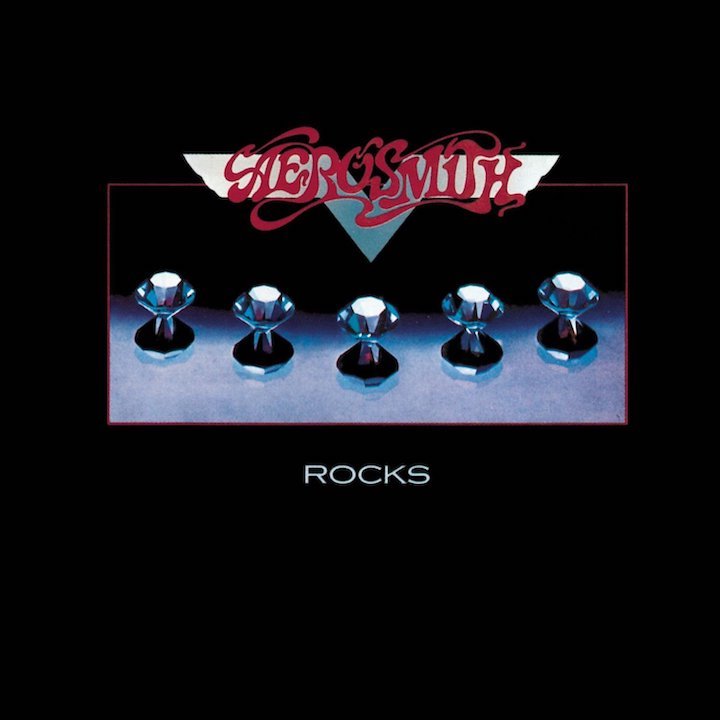 "We weren't too ambitious when we started out. We just wanted to be the biggest thing that ever walked the planet." (Steven Tyler)
Where: Wherehouse Waltham, Massachussetts & Record Plant, NYC.
When: Mai 1976
Who: Steven Tyler (vocals, bass, harmonica, percussion, keyboards), Joe Perry (guitar, percussion, 6-string bass, steel guitar, vocals), Brad Whitford (guitar), Tom Hamilton (bass, guitar), Joey Kramer (percussion, drums, vocals), Paul Prestopino (banjo)
What: 1. Back In The Saddle 2. Last Child 3. Rats In The Cellar 4. Combination 5. Sick As A Dog 6. Nobody's Fault 7. Get The Lead Out 8. Lick And A Promise 9. Home Tonight
How: Produced by Jack Douglas &Aerosmith
Up: la pochette à l'épure éloquente en guise de programme... le riff rocailleux, la basse six-cordes jouée par Perry et sa descente (2"20), ses interventions guitaristiques beckiennes inouïes, feedback compris (0"28, 01"11, 01"18, etc.), la cavalcade des cymbales crash de Kramer, le solo final et les improvisations tyroliennes de Perry (04"00) ["Back In The Saddle"]... le riff indolent et groovy, le solo magique de Perry sur rythmique superbe (2"16), la petite cowbell qui va bien (2"49) ["Last Child"]... l'hommage aux Yardbirds propulsé par un Tyler survitaminé, les breaks qui tuent (1"40 et 2"31) ["Rats In The Cellar"]... le chant stonien doublé, les lyrics mutines de Tyler et encore un break inoubliable (2"43) ["Combination"]... les Toxic Twins tout en férocité, la pause inquiétante (2"55) avant l'orage tellurique ["Sick As A Dog"]... l'intro menaçante, la furie de Tyler sur fonds de rythmiques égoïnes et le réveil de Kramer (02"02) ["Nobody's Fault"]... le groove hénaurme et le final spooky (2"48) ["Get The Lead"]... les imparables "na na na na" de Tyler et son talent sous-estimé de parolier (0"47) ["Lick And A Promise"]...
Down: la ballade finale de circonstance, bien écrite mais avec solo qui dégueule de la pentatonique ricaine sur fond de synthé ["Home Tonight"]... le son lapin-duracell de la batterie de Kramer aux subtilités bien trop enfouies dans le mix de Douglas...