Cream: Disraeli Gears (1967)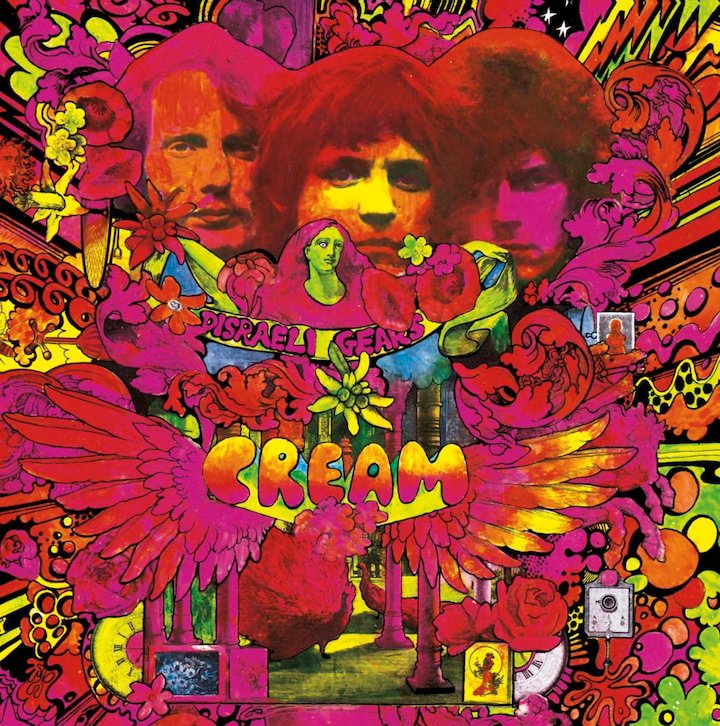 "You were at school and you were pimply and no one wanted to know you. You get into a group and you've got thousands of chicks there." (Eric Clapton)
Where: Atlantic Studios, New York.
When: Novembre 1967
Who: Eric Clapton (guitar, vocals), Jack Bruce (bass, harmonica, keyboards, vocals), Ginger Baker (drums, vocals), Pete Brown (lyrics)
What: 1. Strange Brew 2. Sunshine of Your Love 3. World of Pain 4. Dance the Night Away 5. Blue Condition 6. Tales of Brave Ulysses 7. Swlabr 8. We're Going Wrong 9. Outside Woman Blues 10. Take It Back 11. Mother's Lament
How: Produced by Felix Pappalardi
Up: le psychédélisme londonien de la pochette kaleïdoscopique de Bob Whitaker... riff crunchy et basse bourdonnante, Clapton prend un peu d'assurance au chant ["Strange Brew"]... l'inoubliable riff casse-gueule à dix notes, la voix puissante de Bruce contre la sensibilité de Clapton, le break à 0"50 ("I've been waiting so long..."), solo classe tout en fluidité de Clapton (2"00), l'avalanche de double grosse-caisse de Baker (3"59) ["Sunshine Of Your Love"]... Clapton qui sort toutes ses guitares et la wah-wah pour une ballade psyché truffée de mini-rythmiques et de mini-soli ["World Of Pain"]... la douce mélancolie de la douze-cordes de Clapton portée par des chœurs émus, les trois solis tortueux (0"45, 1"45, 2"45) et la montée vers le refrain ["Dance The Night Away"]... la wah-wah définitive, toujours aussi subtile, du même Clapton qui enchaîne quatre soli, chacun supérieur au précédent (0"48, 01"15, 1"58, 2"16), Bruce à fond dans les lyrics hallucinées de Martin Sharp ["Tales Of Brave Ulysses"]... le killer-riff de Clapton et les retrouvailles avec la grille blues sur fond kaléidoscopique ["SWLABR"]... Bruce presque fragile, les roulements d'anthologie de Baker, les interventions feutrées de Clapton ["We're Going Wrong"]... un riff de plus, Clapton au chant, solo magistral d'économie (1"37) ["Outside Woman Blues"]...
Down: l'insupportable potacherie de remplissage "Mother's Lament" d'un album déjà très très court... la voix de Baker sur "Blue Condition"... le solo de Clapton sur "Strange Brew" pompé note pour note sur un chorus d'Albert King...