Dick Dale & His Del-Tones: King Of The Surf Guitar (1961-1987)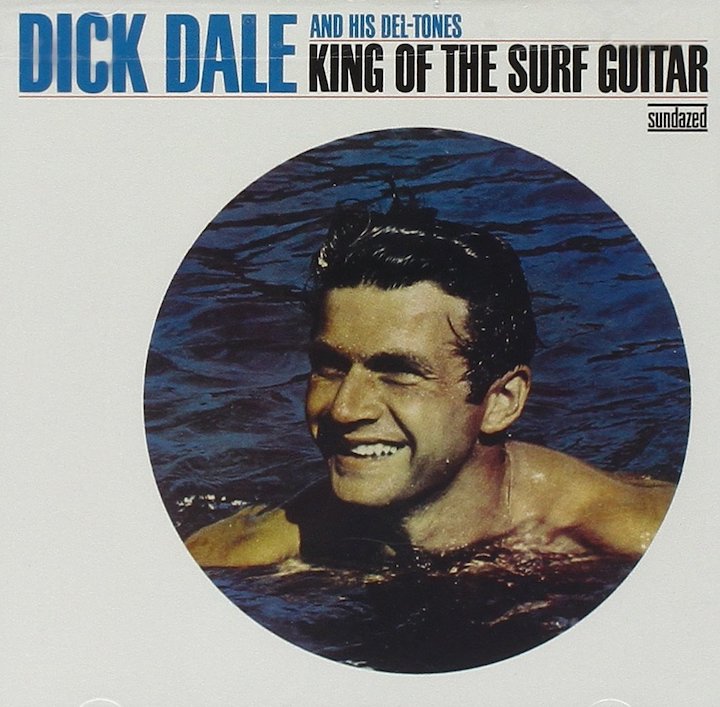 "Kids called it Surf music - I didn't call it that. [...] When historians, so called historians, say the reverb's the Surf sound... they don't know what they're talking about. It's the heavy machine gun, staccato sound. The waves." (Dick Dale)
Where: Capitol Studios.
When: 1961-1987
Who: Dick Dale (guitar), Nick O'Malley (guitar), Stevie Ray Vaughan (guitar), Glen Campbell (guitar), Rick Rillera (bass), Jerry Stevens (drums), Jack Lake (drums), Hal Blaine (drums), Billy Barber (piano), Leon Russel (piano), Ed Quarry (piano), Armon Frank (saxophone), Barry Rillera (saxophone), The Blossoms (backing vocals)
What: 1. Let's Go Trippin' 2. Shake 'N' Stomp 3. Misirlou 4. Mr. Peppermint Man 5. Surf Beat 6. Take It Off 7. King of the Surf Guitar 8. Hava Nagila 9. Riders in the Sky 10. The Wedge 11. Night Rider 12. Mr. Eliminator 13. The Victor 14. Taco Wagon 15. Tidal Wave 16. Banzai Washout 17. One Double One Oh! 18 Pipeline
How: Produced by Jim Monsour, Voyle Gilmore, Jim Economides, Ron Eglit, Gary Usher, David Kahne & Dick Dale
Up: la technique sidérante de Dale sur le premier instrumental surf, septembre 1961 ["Let's Go Trippin'"]... l'inimitable staccato et double-picking, les accords magiques et Dale loin, loin devant les Shadows ["Shake 'n' Stomp"]... même chose, la reverb sur Fender en plus, enregistrée pour la première fois, sur un standard pop grec (si, si), 32 ans avant l'hommage grand public de Tarantino et, derrière piano frénétique et basse-batterie qui cognent ["Misirlou"]... même chose, mais... encore mieux, rythmique déjantée et Dale avec un killer-riff sur la crête et break jouissif (2"19) ["Surfbeat"]... l'auto-célébration et ses interventions de Fender déchirée (0"20, 0"39...) ["King Of The Surf Guitar"]... l'invention du thrash ? sur un thème oriental, réduit en charpie ["Hava Nagila"]... l'ovni country-surf ["Riders In The Sky"]... la célèbre intro de batterie et Dale qui sort l'artillerie, arpèges fins en sus ["The Wedge"]... Dale énervé, une minute et quarante-cinq secondes de tuerie, on ferme ["Night Rider"]... deux minutes d'apnée pour se détendre ["Mr Eliminator"] et la baffe orientale ["The Victor"], Dale en haut des vagues avec riff slayeresque (1"02) et solo terrassant (1"41), le tout en mars 1964...
Down: le scandaleux anonymat de ce vrai guitar-hero, figure de proue de Fender...