Jerry Lee Lewis: Live At The Star Club Hamburg (1964)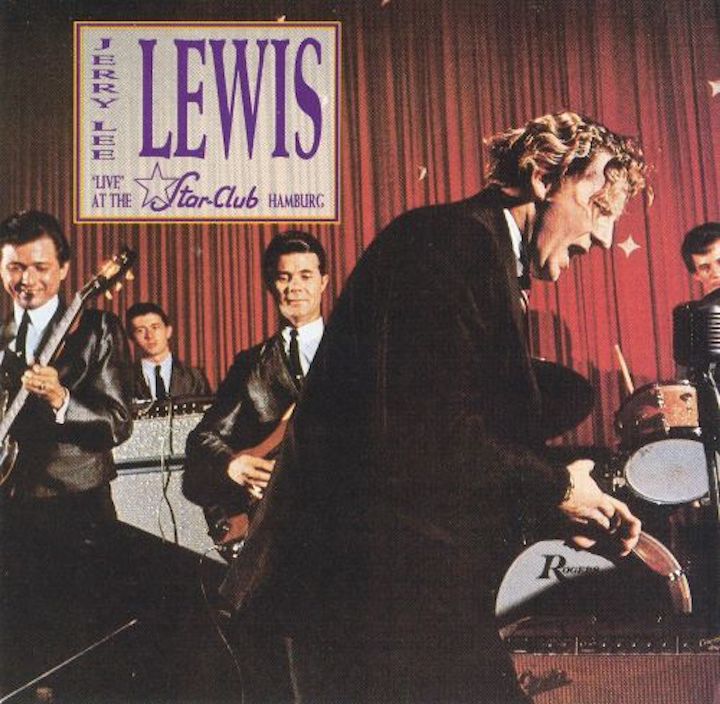 "Y'know, there's nothin' like tearing up a good club now and then." (Jerry Lee Lewis)
Where: Star Club de Hambourg.
When: 5 avril 1964
Who: Jerry Lee Lewis (piano, vocals), Johnny Allen (guitar), Pete Shannon (guitar), Ray Phillips (bass), John Hanken (drums)
What: 1. Mean Woman Blues 2. High School Confidential 3. Money (That's What I Want) 4. Matchbox 5. What'd I Say, Pt. 1 6. What'd I Say, Pt. 2 7. Great Balls of Fire 8. Good Golly Miss Molly 9. Lewis Boogie 10. Your Cheatin' Heart 11. Hound Dog 12. Long Tall Sally 13. Whole Lotta Shakin' Goin' On 14. Down the Line
How: Produced by Sigfried Loch
Up: le vrai, l'unique "plus grand live rock de tous les temps" ? les rugissements ("rrrrrrrrrrr !!!"), dès la 7e seconde, du Killer qui monte sur scène, la bastonnade fiévreuse et sans répit d'un improbable gospel blanc devant des ouailles teutonnes... l'enthousiasme d'un Lewis pourtant miné, le backing-band déjà essoufflé (3"14) ["Mean Woman Blues"]... la tuerie expédiée pied au plancher (et sur le piano) en 2 minutes 10 montre en main ["High School Confidential"]... les soli à 20(?) doigts du Killer, la batterie incroyable, les improvisations vocales gorgées de white feeling (3"28) ["Money"]... le débonnaire et démoniaque "If you don't like my peaches, please don't shake my tree" ["Matchbox"]... les reprises incendiaires de Ray Charles, une première version pas satisfaisante pour le Killer qui sermonne son backing-band ("play that thing right, boy!") et on remet le couvert ["What'd I Say Part 1 & 2"]...les éreintantes et rageuses hurleries ["Great Balls Of Fire"] et ["Good Golly Miss Molly"]... la trilogie exténuante des classiques concurrents ["Hound Dog"], ["Long Tall Sally"] et ["Whole Lotta Shakin' Goin' On"]... l'accalmie inespérée mais de courte durée à 2"11 ["Whole Lotta Shakin' Goin' On"]...
Down: trop court, vraiment trop court, 40 minutes...