Led Zeppelin: Untitled (1971)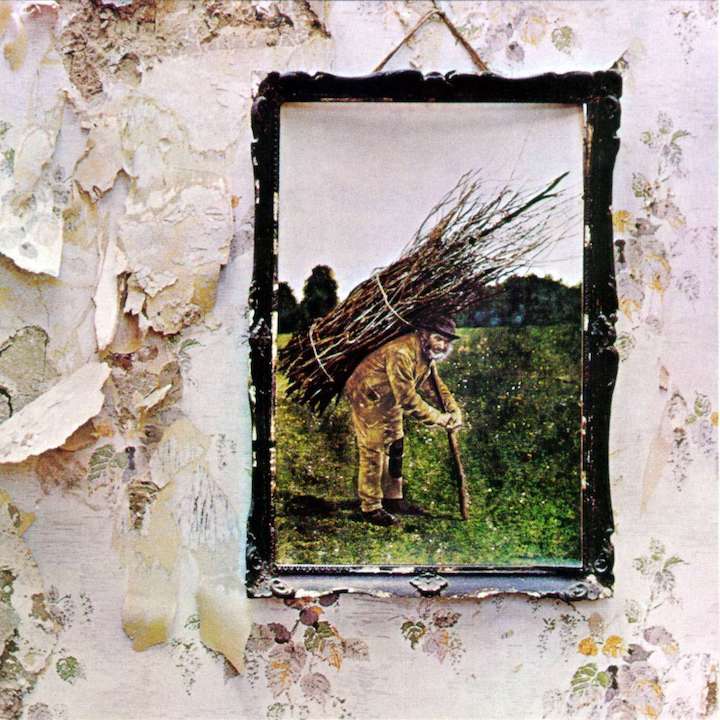 "No one ever compared us to Black Sabbath after this record" (John Paul Jones)
Where: Headley Grange, Hampshire, with The Rolling Stones Mobile Studio ; Island Studios, London. When: 8 novembre 1971
Who: Robert Plant (vocals), Jimmy Page (guitar), John Paul Jones (bass), John Bonham (drums). Guest : Sandy Dennis (vocals), Ian Stewart (piano)
What: 1. Black Dog 2. Rock And Roll 3. The Battle Of Evermore 4. Stairway To Heaven 5. Misty Mountain Hop 6. Four Sticks 7. Going To California 8. When The Levee Breaks
How: Produced by Jimmy Page.
Up: la pochette sans titre et sans mention du groupe et son tableau déniché dans une brocante... l'illustration en pochette intérieure ("The Hermit" par Barrington Colby Mom)... les symboles pseudo-runiques associés à chacun des musiciens... les différents noms donnés à l'album : Led Zeppelin IV, Untitled, Four Symbols, Zoso, The Runes, et d'autres encore... le riff arachnéen de Jones, le solo de Gibson quadruplé en cabine Leslie de Page (3"35) sur un deuxième riff (le plus lourd du rock ?), les cris de Plant et Bonham qui donne le temps (0"12, 0"19, 0"30...) sur ses baguettes pendant les breaks ["Black Dog"]... l'extravagante intro de batterie, le clin d'œil appuyé au "Keep A-Knockin'" de Little Richard, l'enregistrement en quinze minutes chrono ["Rock And Roll"]... l'improvisation de Page sur la mandoline de Jones transmuée en ballade celte éthérée, le dialogue de Plant avec Sandy Dennis ["The Battle Of Evermore"]... les arpèges classiques, le solo spontané de Page à la Telecaster (5"55), mille fois copié depuis, la structure ambitieuse en subtil crescendo ["Stairway To Heaven"]... les improvisations vocales inouïes de Plant (3"57) et Bonham qui double ses baguettes ["Four Sticks"]... l'incursion folk sur les brisées de Joni Mitchell ["Going To California"]... le son de batterie unique, monumental, enregistré dans le hall de Headley Grange avec un unique micro et indéfiniment samplé, l'épique relation d'une crue inspirée d'un obscur titre de Memphis Minnie et Kansas Joe McCoy de 1929, et Jimmy qui sort le bottleneck ["Levee Breaks"]...
Down: la voix doublée faussement hippie sur "Misty Mountain Hop"... Les tolkenieries de Plant le celtophile... Jones qui s'amuse avec un synthétiseur Moog sur "Four Sticks"...