Let The Music Do The Talking #10 : Chris Spedding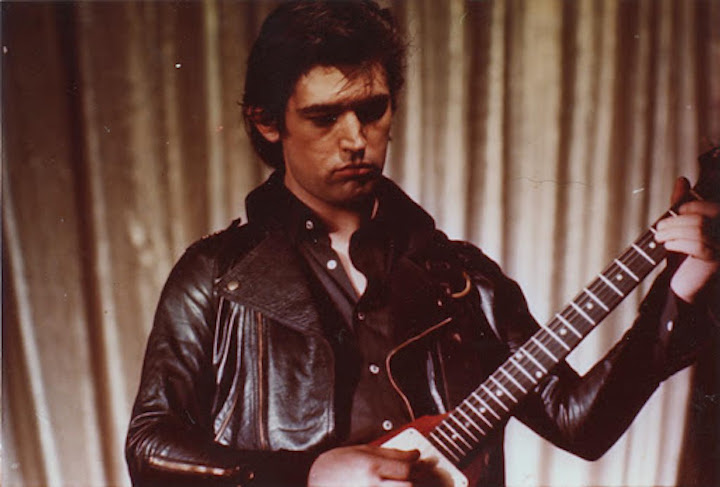 "I wouldn't want to limit myself to playing rock'n'roll"
You formed your first group, The Vulcans, in 1959 at the age of 15, influenced by Bill Haley, Elvis Presley, Buddy Holly, Gene Vincent, Duane Eddy and Eddie Cochran. One year later you started playing professionally in clubs and around 1965 you found yourself right in the heart of the British Blues Boom - but you said that you didn't actually like playing that style of guitar... What was it that you didn't like about the blues or this British blues scene in particular? Or was it just that you wanted to sound different?
I suppose it was more the need to be different, and the need to absorb all the different styles of American music. The Blues is only part of it.
You've done a lot of things that many people today are unaware of. I thought you might tell us a little about some of them if that's OK with you. For instance, in April and May 1969, you played in the sessions for Jack Bruce's Songs for a Tailor album at Morgan Studios, on tracks such as "Theme For An Imaginary Western", "The Clearout", "Tickets To Water Falls", "Wired Of Hermiston" and "The Ministry Of Bag". Do you have any memories of these sessions and of your collaboration with Jack Bruce that you could share with us?
It was my first experience of a big deal session. I had just done a few demos and a little small time studio stuff before. With the exception of "Ministry Of Bag", which was a full live band with horns, and "Clearout" which had Jack on bass, most of the other backing tracks were recorded with just Jack on piano, John Hiseman on drums and me on guitar. No bass, and no vocal. I'd never worked like that before so that was a valuable learning experience.
From 1972 to 1974, you concentrated solely on The Sharks, the group you formed with Andy Fraser, and cut out all freelance work and sessions, even saying later that this band was your "only serious attempt at being part of a group". Even though you seem to have mixed feelings about the whole period, your time with The Sharks seems to be a pivotal stage in your career, if only because after the group broke up, people started to look for a "Chris Spedding" sound during sessions. You said that you "started looking for new directions" and played with John Cale, an experience that you found "very challenging and inspiring" (on stage rather than in the studios, apparently). Could you tell us what it was that you liked about this collaboration, especially as you had already experimented extensively with the Battered Ornaments a few years before?
I'd say that by the time I came to play with John Cale, both John & myself had worked thru' our more extreme experimental ideas (John with the Velvets, me with the Battered Ornaments) and were both more mature as musicians, but still with an experimental edge. We suited each other very well.
In March 1975 at EMI Studios, according to Roy Harper, you stood in for Dave Gilmour and nailed the complex final section of "The Game" in just 10 minutes! Interestingly enough, Harper also said that Bill Bruford's busy playing and your supposedly "minimalistic" (sic) style didn't really gel. Do you have any recollections of those sessions? More generally, how do you feel about the widely varying environments when working as a session musician (the different styles, skills and personalities of the other musicians)? Are you sensitive to the general atmosphere in the sessions or do you approach them on a strictly musical level?
I enjoyed playing in the studio with Bruford but we didn't get on very well playing live. "The Game" solo was an overdub. I didn't play on the backing track. I don't know what was so "complex" about "The Game". I just played a generic rock-bluesy solo over the backing track.
You once said you've "been through all the scenes that an electric guitar player can go through. [You]'ve played sound effects, bebop, skiffle, rock and roll, Wes Montgomery, and random music, and [you]'ve sorted out what [you] want to play". So, a few months after the release of your twelfth original studio album Pearls, how would you describe your style today? Would it be simply "rock and roll"? And do you think the words "rock and roll" still mean anything anyway?
I wouldn't want to limit myself to playing rock'n'roll, any more than I'd limited myself to the blues in the early part of my career. To me, "rock'n'roll" refers to a genre of music that was popular many years ago, and is fine in that context. Having lived the majority of my professional career in the USA (28 years) I can probably say with legitimacy that I play "Americana" because all the styles I draw from have their origins in American music. I like the term "Americana".
Chris Spedding's website: http://www.chrisspedding.com/