Let The Music Do The Talking #13 : Johnny Marr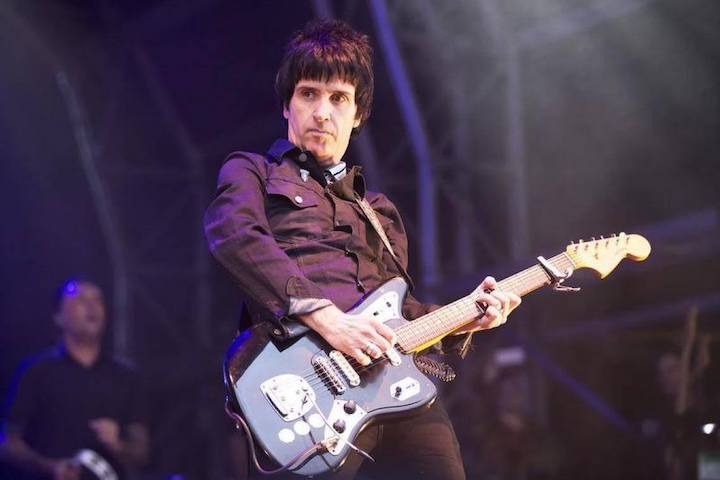 "To be 'rockist' was the big crime in the early days of alternative music"
I've always found it hard to discover what really made you pick up the guitar in the first place. Who were your big influences, in terms of guitar-playing or otherwise?
I had toy guitars when I was a little kid. I don't know what made me love them so much but I carried one with me all the time like some boys carry toy cars or guns. I finally got one that I could make music on and I started making up songs and learning how to play properly. I loved pop songs of the day and started buying T.Rex and David Bowie and '70s pop records and learned from them. Marc Bolan was my first guitar hero, then Rory Gallagher and Bert Jansch. James Williamson is my favourite guitar player.
You once said that after signing to Rough Trade, Morrissey and yourself, as songwriters, "got slightly more listenable and more commercial". You also mentioned an early version of the Smiths first album that you scrapped. Should we conclude that this first version was rougher? Maybe even more "original"?
The record that The Smiths made which was supposed to be our first album is a good document of what the band really were at the start. It's a collection of the first set of songs we had and our live set for the first year we were together. I personally think that those recordings are quite unique. I don't know of another group that sounds like it.
I've always thought there were similarities between Jimmy Page's "guitar-army" approach and your "guitarchestra" approach. Do you feel connected, musically speaking, with Jimmy Page in any way at all?
I understand the comparison. Yes, we both are guitar players who produced our records and use our knowledge of guitars and recording techniques to make the bands' records and sound. Jimmy Page is very skilled.
When you formed the Smiths, what did you think about the "classic" 70s rock culture, its swaggering mythology and its excesses, which people tend to associate with acts like Led Zeppelin, The Rolling Stones or Deep Purple? Was it something you could relate to in any way, musically or otherwise ?
At the time when The Smiths formed the "classic 70's rock culture" was an outdated idea and was not quite relevant to my generation. We formed in 1982 so Punk had already been and gone and that meant things were different; to be "rockist" was the big crime in the early days of alternative music.
Are there any guitar players that really excite you these days?
There are always good new musicians coming along. Nick Zinner from Yeah Yeah Yeah's, Ryan Jarman from The Cribs.
Sorry for the "big" final question but here we go: from your perspective, how has the music business changed?
The Internet has changed the entire world or course. The music industry has had to adapt to this and musicians too. The experience of actually writing and performing songs isn't particularly different and being stood in a room with your band and equipment always comes down to the same motivation, for me it does anyway, but how we receive recorded music and information means the audience and artist have a different relationship, which can be an up side. It also means that the media can have an even bigger say in that relationship, which is a down side.
Johnny Marr's official website : www.johnny-marr.com