Let The Music Do The Talking #14 : Steve Hunter
"I am first and foremost a blues guitar player"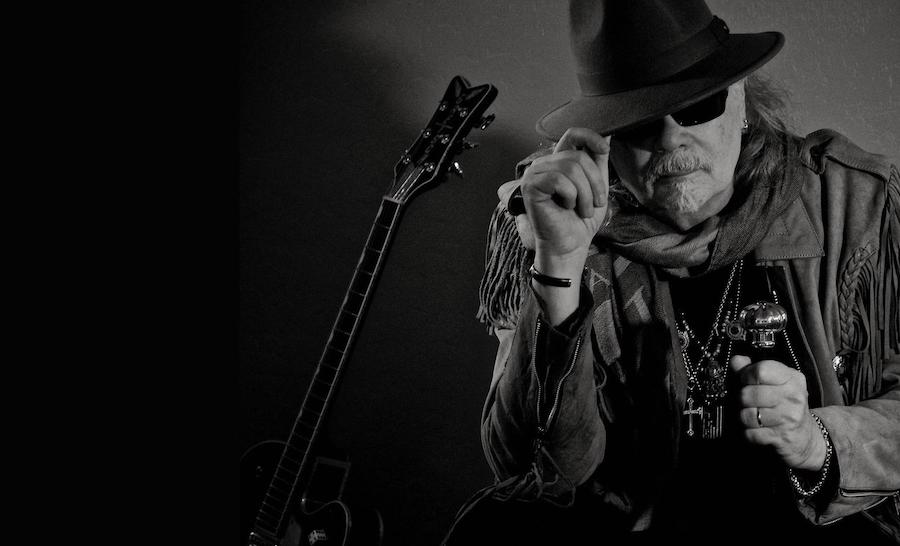 I'm not sure if you would agree with this but I've always thought that your elegant and unintrusive solos, which always support and enhance the songs, are probably one of the most distinctive features of your guitar playing. Could you tell us more about your "solo" approach when dealing with a new song, whether one of your own or another artist's?
Well first of all, thanks for the compliment. Soloing for me has ALWAYS been about feelings and emotions. And of course, every song is different. I suppose in some circumstances there is some analysis, but I tend to keep that to a minimum. I'm more concerned about the content of the song and how that would influence the type of solo I would do. If there are lyrics, then I would tend to convey in a solo what the lyrics might be saying. If it's an instrumental song, I might use the title or the overall vibe of the song. I would rather those things influence my solo approach rather than what analysis might bring. Analysis for me is a tool for learning, not soloing.
You've had a longstanding working relationship with your friend and producer Bob Ezrin. I have one specific question about your recording of Aerosmith's "Train Kept Rollin'" in 1973 (on which Bob Ezrin was the executive producer, if I'm not mistaken). Do you remember why you and Dick Wagner were brought in to perform the dueling solos on this song (instead of Joe Perry and Brad Whitford)? Do you have any memories of this particular session to share with us?
To be honest I never really knew why I was asked to do the solos on the first part of "Train Kept A Rollin'". (Dick did the solos on the 'live' version.) I had heard various rumors years later but I never really knew what had transpired. I do believe at the time they were working on that album, they were under the gun to finish it. I think the Train solos was one of the last things that needed to be done so they could move on to mixing. I think maybe the solos weren't coming for Joe on that track. That's a normal thing... that has happened to me many times. And sometimes the best thing is to call someone else in to have a fresh look at it. I think that's why I was called in, I remember meeting everyone in the studio. They looked pretty tired but they were all very cool to me. I played a couple of passes and that was it... it was over. I was asked not to say anything.... in those days, you could lose your label deal if someone else played on a band album. So, I kept quiet about it for many years. I had no idea that song was going to do so well and help propel Aerosmith right into the big time. But there ya go... that's the music biz!
You've been suffering for years from a degenerative eye disease called pigmentary glaucoma. We can easily imagine that there are a lot of (side-)effects that you have to deal with. Did it change anything in terms of how you play guitar or even your relationship with music?
Yes it did to some degree. Playing onstage can be more difficult at times because of lighting and other factors. But just like anything else, you find ways to adapt. Some are easier than others. It is true than in some respects it would have been better had I been born blind rather than have a whole lifetime experience being able to see. It's much more difficult to adapt. But I have seen many people adapting to far greater disabilities than mine. And that gives me the strength to work things out.
You have released a very peaceful instrumental version of Marvin Gaye's 'What's Going On"? What made you choose this particular track from all the hundreds of songs that you could have covered?
When I first heard 'What's Going On' I thought it was perhaps the absolute perfect record. Perfect song, perfect performance and perfect production. It was brilliant and I loved the melody. I worked a long time on it actually. I began to realize that I could not chase the old arrangement and production. That what I needed to do was to try to make it my own. I played it for my friend Jason Becker who said it sounded like the 70s were crying.... which for me was the ultimate compliment. It meant I had brought something of my own to the song. Melody will always attract me to a song and to try translating that melody to guitar. That's why I am such a huge fan of instrumental guitar music. For me, the guitar is really my voice. I want it to be just as expressive as my voice can be. It is a very expressive, emotional instrument to me.
Is rock part of what you're listening to these days? Does rock still inspire you or do you have to explore other musical landscapes like jazz or classical music?
Today's rock does not inspire me as much as older school rock still does. But that's because old school rock is very Blues based and as far as I'm concerned, I am first and foremost a Blues guitar player. Blues is and has always been in everything I play. That is also why I wanted to try doing an arrangement of 'What's Going On'. I could hear the Blues in it. My inspiration comes from all sorts of places and has been for years now. I love classical music and play around with orchestral things all the time. While I was a student with the late great Ted Greene in Los Angeles he gave me a deep respect and love for jazz as well. So really, all music can inspire me. I listen to just about everything from African tribal chants to Thelonius Monk to David Gilmour and Jeff Beck. It's all good and to some extent, I let them influence my writing in particular. But my playing starts and stays in Blues.
Steve Hunter's official website : www.stevehunter.com