Let The Music Do The Talking #3 : Andy Fraser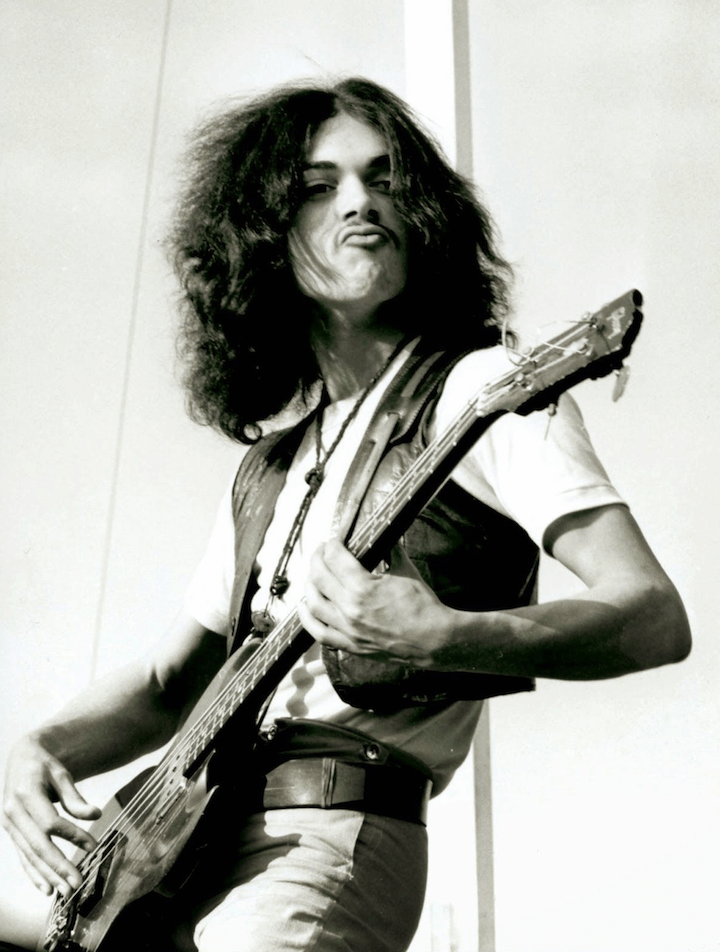 "Vastly different people finding common ground has a certain magic to it"
I found your own biographical presentation on your website very personal - a very particular balance between the private and the professional, mingling facts, success, failures and emotions without any of the swaggering approach rather frequent in rock, especially when one has to talk about their musical career. The word "family" in particular seems to be central, both in your life and in your recordings, which is another concept (or even value) rarely conjured up in rock. It really seems to have accompanied your best musical experiences even if, like in a real family, it might have included frictions or break-ups. So, what about... today? Is it still possible for you, in 2011, to evolve professionally in such a "family vibe" or is it a thing of the past? Do you think a "gang of brothers" (as you describe Free) would be possible in today's rock scene?
Generally speaking, it is less likely, especially in US where I am based now. I have managed, in setting up the Mctrax label, to be able to bring about a feeling of 'family', in that I intend to keep it independent, specialized, and not just stock everybody and his brother on the label and see what sticks. Our first signing TOBI (tobiofficial.com) though only 16 years old, from London, is already family. Also his parents, who run the Bull Theatre, a school for artists of all medium in London. Tobi came over with his Dad, the headmaster, and former sax player in January, spent 3 weeks with me, where we laid down an albums worth of his songs, vocal and guitar, even cut a promo clip, and when he went back to finish school I finished producing the album, just released on our new Music Delivery system, mctrax.com ("Spirit in Me").
Now Tobi and I are on a 2 month promotional awareness tour of US and Canada, reminding people to go to ArtistsSupportJapan.com as the Japanese are still hurting. Though 16 years old, and I... 58 or 59, I lose track, we get on like "family" are able to be comfortable in each others company and share a good laugh. In fact when I think about the extreme personality difference between say, myself and Paul Rodgers, even Lennon and McCartney, but then finding common ground it makes it inclusive for a vast amount of people. Vastly different people finding common ground has a certain magic to it. The age difference between Tobi and myself, but finding common ground, bridges vast differences, making it unique, fresh and alive. The fact that he is one of the best artists to come along in a long while doesn't hurt either.
I have people working for Mctrax that feel and operate as family, ready to go that extra mile. My daughters although very busy with their own lives and careers, readily find time to add their considerable talents in the way of Artwork, websites, photography. The musicians I use to add little extras on the tracks, I love like family, so all in all I consider my situation very rare, and a blessing. Life has come full circle for me, and it feels good.
One of the main stages of your life concerns of course your first - and very instructive - years, as a very young bass player, with Free. The light you cast on this period is very interesting and somewhat unexpected : "Being that age, it was where I formulated my sense of integrity, cemented views on the world at large [...] I still live by the values formulated at that time". Many of us (well, this writer at least !) would tend to say that this particular age corresponds to a time when you do all the stupidest things to do (and is a bit embarrassing afterwards) but you tell us that even today you draw on this particular time and experience. The private level aside, how these "values" apply to your present life? Is it, for instance, related in any way to your political involvement, like "This Is The Big One", your song about global warming, or the anthem "Obama Yes We Can" change? Are there any of these "values" to be found in your current approach to music itself? (... or is it another dumb fan question ?)
Not a dumb question at all. Just the opposite. The individuals in FREE were extremely mature, wanting to change the world, always looking to the horizon, had a sense of integrity, society, and the values we learned from each other have stood me in good stead for life. It was only when we as a band starting falling short of our high ideals, and might ultimately turn into being like so many other bands, out there on the treadmill, doing your hits, night after night, til you are fat and old, never mind the personal problems and drugs, is when I had to say no, we either keep moving forward, or its time to move on.
Although starting again for me was tough, the lessons learnt were invaluable. I love a challenge, and have certainly had my share presented. But I feel I am living in the present, looking forward, and not stuck in some past decade reliving past glories. In FREE we were expressing how we felt then. I am expressing how I feel now, not pretending to be a teenager and doing cover versions of my own songs.
Another important stage of your life seemed to be when you came across a certain American rock scene - very professional, very independant, a bit venal, light years from the "family vibe" anyway - of which you say that it "strengthened [you] enough to be able to stand alone". Believe it or not, it is hard for us to imagine why someone like you - bass player, composer, singer with a worldwide fame - should doubt their ability to "stand alone". What did you mean exactly?
In FREE we were a true band in the sense that we as individuals needed each other to complete the whole.
Whatever shortcomings that were in any of us individually were compensated by being present in another. We had good chemistry from that perspective. Take away the band, and my shortcomings needed to brought up to speed. I had to learn to be a more complete, self sufficient person, that didn't need others. I had to grow to be able to stand alone. I had to be able to satisfy just by myself, when the other muscians around me were only there to be paid to rehearse, perform... They could play 'anything', but needed to be told 'specifically' what was required. It was my role, to write all the songs, get the deal, make the decisions. The responsibility was all mine. It took some growing to feel comfortable enough to take that on.
Your musical training is - again - very personal : playing Beethoven and Mozart "like a parrot" on an old family piano until 12 then tuning your "Lucky Air-stream 3" guitar strings down an octave to become a bass player with your school mates - not to mention the influence of the infamous Binky Mackenzie! Looking back on this period, you say "I have since come to appreciate all the theory that was drilled into me, and the understanding of how all music, all chords, all keys are related". This is very interesting as I've always thought - but might be wrong, again! - that one of your characteristics was to sound spontaneous, even instinctive even though your bass parts are precisely built and thought of. (for instance, your famous bass part for "Mr Big" may sound impulsive, on-the-spur-of-the-moment as it were... but you could reproduce it almost note for note in public). So here are my questions: when you compose, is there an important part of strict musical analysis? Or do you tend to draw mainly on feelings and emotions on a general chord pattern? Generally speaking, has your approach to it has evolved in the last years?
I discovered at the age of 12 when I moved to guitar - "ah ha" - the idea is to express oneself. Something one doesn't learn when being taught musical theory. Once I discovered that, I became very appreciative of the training that I had been given. It allowed me to improvise with a set of skills earlier drilled into me. Very lucky. I have played with other musicians, who have great 'feel' but get stuck because they don't readily see the intersection of all notes and chords, which enabled me to have an easier time of it. So the idea is, having those skills under one's belt, gives the freedom to improvise and it not suddenly collapse through lack of basic training. The whole purpose I believe of any artist, especially a writer, is to get in touch with one feeling's, emotions, hopes, spiritual yearnings, political voice, even insecurities / vulnerabilities, tackle them honestly, express them openly, and so provoke, inspire, nudge, draw the listener into doing likewise, thus making the world the better place.
Your Fine, Fine Line album (1984) was another kind of "experience": in those first MTV years, you had to make videos and it looks as if you had mixed feelings about the whole thing, to say the least.... You say: "Throwing someone that is basically a musician into the 'acting' arena isn't exactly a natural thing. During the making of a video, one's musical abilities count for nothing - it's how one interacts with the camera that suddenly becomes important. And I would say that today, many successes are borne out of that ability, rather than musical skills". This seems even truer today - I might overinterpret but do you feel the status of rock has been slipping towards entertainment since when it had been a true culture for decades?
Well music by itself is entertainment, sometimes it can be in the Disney vein and at other times more thought provoking, sometimes spiritual, even political, but the necessity to add the visual element gets more intense. Some really good musicians have that naturally, some have to work extra hard to include it, and some really good visual artists can get away with less musicainship. Although say... 'the news' has become 'infotainment' from a lot of outlets, there are still some who go to great lengths to bring us the facts. I still agree with the statement I made above, but have surrendered to the current reality, and do my best to work on the visual aspect as well.
Now, having started the Mctrax Label, and with TOBI, we have good video people and try just as hard as the next label to get the look as good as the listening.
I would also like to take the opportunity to re-mention ArtistsSupportJapan.com which is a collection of artists, over 60, including all genres, LA Guns, Roseanne Cash, Glenn Hughes, Ron Sexsmith, Paul Rodgers, Tobi and myself who have contributed impromtu performances for free, as a way of encouraging the public at large to remember there is still a huge tragedy in Japan, and will be for 10 years at least. Though out of the headlines already, residents of Fukushima have recently tested positive for radiation, a lot of Japan only gets half a days power... lights, escalators and the rest not working. Buildings in rubble etc. and we want people to be inspired enough to send money to the Japanese Red Cross, or any other worthy organisation of their choosing, we dont handle the money, but want to encourage others to 'help like you would want to be helped' if in that situation.
Tobi agreed to do a stripped down acoustic version of his song we call "There's always Hope" for Japan, from his first Mctrax album "Spirit in Me" where it is called "Nothings gonna stop us", and having been asked to be spokesmen for the cause are in the middle of this 2 month 'promoting awareness' tour throughout US and Canada. Flying to Phoenix as I write this.
Please give generously!
Andy Fraser's official website: www.andyfraser.com