Let The Music Do The Talking #8 : Robin Trower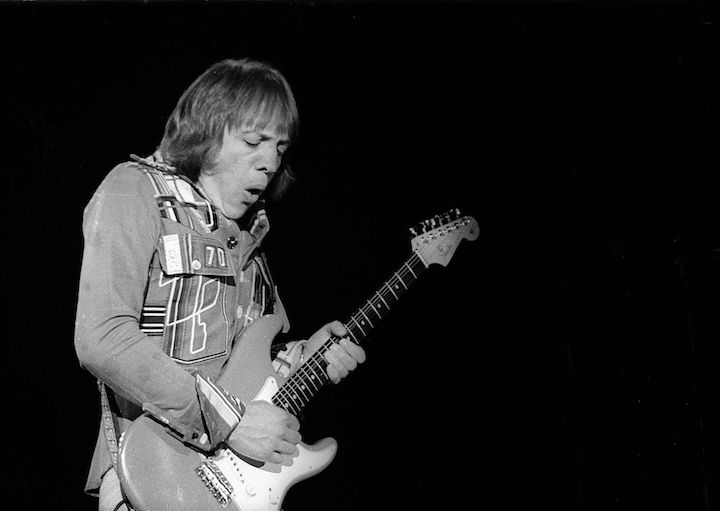 "As far as I'm concerned rock 'n roll disappeared with the artists that created it"
In the Chrysalis promo artist release brochure for your 1976 album Robin Trower - Live, you're quoted as saying: "Music is impossible to describe in words". Do you feel that interviews can only ever shed light on an artist and not on their music?
I believe it is only possible to describe music in the most general terms - in the same way it is hard to describe the feeling you get seeing different colours.
In a famous quote, Robert Fripp says of you: "This was a man who hung himself on the details: the quality of sound, nuances of each inflection and tearing bend, and abandonment to the feel of the moment. He saved my life. Later, in England, he gave me guitar lessons." I was wondering what kind of lessons you could possibly give to such a "progressive" guitar player as Robert Fripp. Do you have any memories of him to share with us?
Bob gave me exercises to do on the guitar and in return I showed him how I go about playing blues phrases and a little bit of my technique.
How do you feel about recording outside the power trio format, for instance with a rhythm guitar player or horns? Is it something you would like to do more?
I recently did a charity show with Paul Jones and the Blues Band and really enjoyed it. Playing only the lead role was a refreshing change for me and is something I will try on my next album which coincidentally is a collection of some of my all time favourite blues songs.
Since you first started making records more than 40 years ago, you've seen a lot of changes in the rock industry, both in technical and commercial terms. How do you feel about today's sound, the high degree of editing to obtain perfectly auto-tuned notes and perfectly aligned beats (as opposed to recording in the 1960s, when tempos would speed up or slow down, singing could be out of key and mistakes could even be left in)? Do you think that rock 'n' roll has lost something because of this modern "surgical precision"?
I think the technical changes are more to do with "pop" music. As far as I'm concerned rock'n roll disappeared with the artists that created it. What we have now is a form called "rock" which is not really my cup of tea.
You're as busy as ever, still touring and recording all over the USA, UK and Europe, and you even seem to be getting more and more productive! Could it be that you're having more fun now than in the 70s?
Certainly it is a blessing the creativity has not dried up but to do something worth while is still very hard work.
Robin Trower's official website : www.trowerpower.com