Megadeth: Rust In Peace (1990)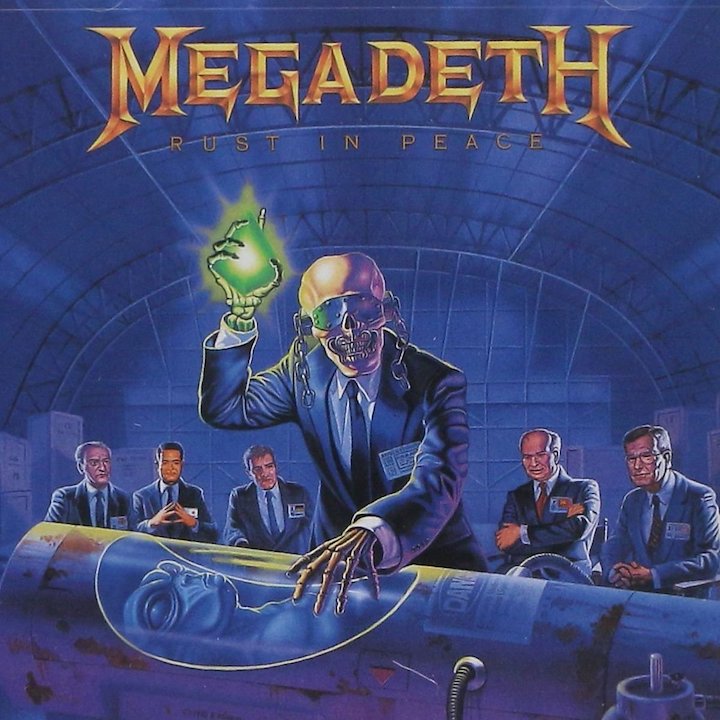 "For months it seemed I had been trying to find a new guitarist for Megadeth [...] Marty had a unique and beautiful style that was a breath of fresh air" (Dave Mustaine)
Where: Rumbo Recorders, Canoga Park, California.
When: 24 septembre 1990
Who: Dave Mustaine (guitar, vocals), Marty Friedman (guitar), David Ellefson (bass, vocals), Nick Menza (drums, vocals)
What: 1. Holy Wars...The Punishment Due 2. Hangar 18 3. Take No Prisoners 4. Five Magics 5. Poison Was The Cure 6. Lucretia 7. Tornado Of Souls 8. Dawn Patrol 9. Rust In Peace... Polaris
How: Produced by Mike Clink & Dave Mustaine
Up: l'introduction somptueuse (jusqu'à 1"27), le break oriental (2"15), le riff d'harmoniques éclaboussées (4"37), le solo rageur et enragé de Mustaine (4"56) ["Holy Wars...Punishment Due"]... les accords saturés qui se consument (0"25) dont se souviendra, un an plus tard, un célèbre groupe concurrent, la note en voicing du riff d'entrée de chant (0"49), le break à deux guitares (1"47), la succession démentielle de rythmiques grondantes (2"50, 3"06, 3"40), les soli alternés terrassants de Friedman et (un peu) Mustaine [Hangar 18"]... le riff bumble bee tourbillonnant à vide (0"24) [Take No Prisoners]... l'accord qui meurt (0"06) en feedback subtil (0"16) pour annoncer l'entrée du riff (0"36), le refrain irrésistible ["Five Magics"]... l'intro, le chant rageur et poignant de Mustaine, la montée finale inattendue (4"58) [Tornado Of Souls"]... la chevauchée sonique finale (4"00) et ses infimes variations rythmiques (4"23) [Rust In Peace... Polaris]...
Down: le titre un peu pour remplir "Dawn Patrol"... les paroles tirés d'un comics de "Hangar 18"... les poses inutiles de bad guy de Mustaine...