Metallica: Ride The Lightning (1984)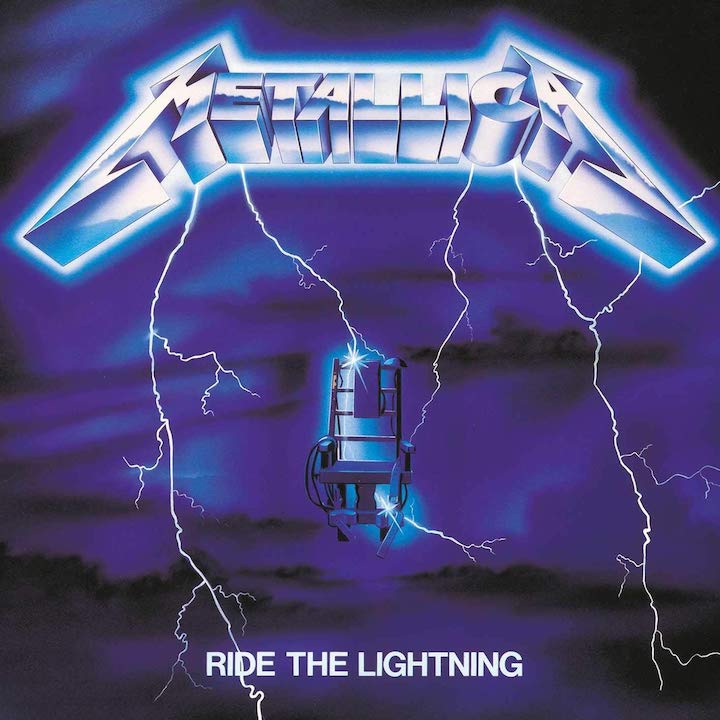 "You see the one thing we realised between making 'Kill 'em All' and 'Ride The Lightning' was that you don't have to depend on speed to be powerful and heavy" (Lars Ulrich)
Where: Sweet Silence Studios, Copenhagen
When: 16 novembre 1984
Who: James Hetfield (guitar, vocals), Kirk Hammett (guitar), Cliff Burton (bass), Lars Ulrich (drums)
What: 1. Fight Fire with Fire 2. Ride the Lightning 3. For Whom the Bell Tolls 4. Fade to Black 5. Trapped Under Ice 6. Escape 7. Creeping Death 8. The Call of Ktulu.
How: Produced by Flemming Rasmussen & Metallica
Up: les arpèges médiévaux cristallins d'introduction, le riff le plus furieux du thrash (?) et son break impitoyable (2"30), la wah wah torrentielle de Hammett, la double grosse caisse épileptique de Ulrich (3"29) [Fight Fire With Fire]... l'enchaînement orageux et les petits résidus punk (0"31) [Ride the Lightning]... le tocsin dantesque, les interventions exceptionnelles de Burton et, déjà, les ambitions progressistes [For Whom The Bell Tolls]... l'intro acoustique à la mélancolie traînante, la simplicité désarmante de l'ensemble, le sursaut à 4"00 [Fade To Black]... le déchaînement vorace de [Trapped Under Ice].. l'audacieuse épopée pré-maidenesque [Creeping Death]... le chef-d'œuvre, courtesy of la tête de lard Mustaine, les rugissements lovecraftiens de la Rickenbacker de Burton (1"34, 1"41, 6"14 etc.) [The Call of Ktulu]*...
Down: le lyricisme un peu appuyé de Hammett, qui bosse toujours par "plans", dans les passages plus lents (notamment sur "Fight Fire With Fire") et les tapping néo-classicisants datés (2"49 et 4"02 sur "Ride The Lightning", par exemple), le "Escape" un peu faiblard et son refrain poussif pour stades...