Mott The Hoople: Mott (1973)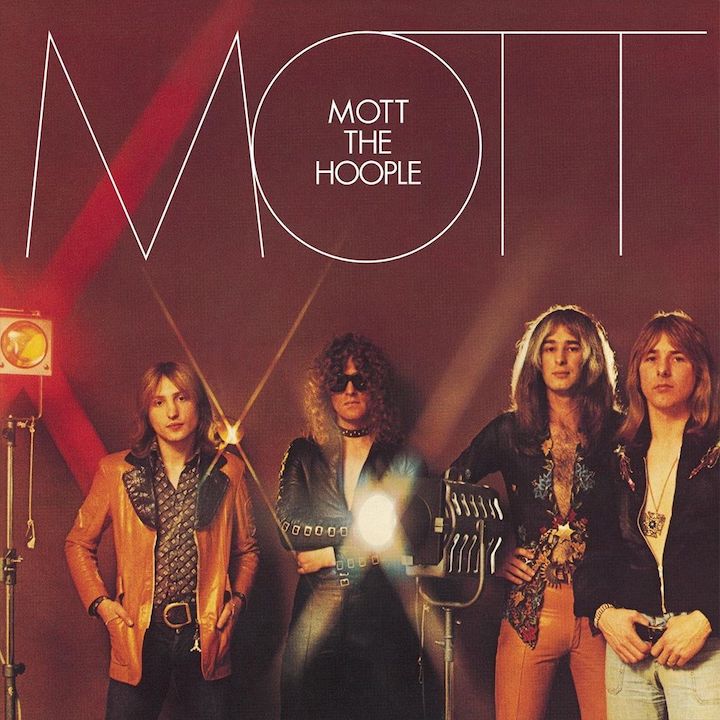 "If you draw a line, really, The Who came first, we came second, and The Pistols after that. It's easy to see the evolution. Mott wasn't really compartmentalized all that easily. We had one foot in glam, one foot in metal. And I grew up with the original rock 'n' roll and stuck with that." (Ian Hunter)
Where: Air London Studios & EMI Abbey Road.
When: 1973
Who: Ian Hunter (vocals, guitar, piano), Mick Ralphs (guitar, vocals), Overrend Watts (bass), Dale Griffin (drums, percussion), Andy Mackay (saxophone), Bill Price (Moog operator), Graham Preskitt (violin), Paul Buckmaster (cellos)...
What: 1. All the Way from Memphis 2. Whizz Kid 3. Hymn for the Dudes 4. Honaloochie Boogie 5. Violence 6. Drivin' Sister 7. Ballad of Mott the Hoople (26th March 1972, Zürich) 8. I'm a Cadillac/El Camino Dolo Roso 9. I Wish I Was Your Mother
How: Produced by Mott The Hoople
Up: le chant bowiesque et les paroles désabusées de Hunter ("You look like a star, but you're really on parole"), les soli de Mackay (3"16) et Ralphs (4"09) ["All The Way From Memphis"]... les riffs gras et glamissimes de Ralphs en contrepoint des lyrics à fleur de peau de Hunter ["Whizz Kid"], ["Honaloochie Boogie"], ["Violence"], ["Drivin' Sister"]... le solo ronsonien retardé avec le meilleur effet (3"56) ["Hymn For The Dudes"]... l'effet cathartique, sur les frères ennemis Hunter et Ralphs, toujours prêts à en découdre, de la libération sonique d'un morceau au titre qui en dit long sur l'ambiance en studio ["Violence"]... le break hard surprenant (3"33) ["Drivin' Sister"]... les ambitions progressives (3"00 et suiv.) de la suite ["I'm A Cadillac / El Camino Dolo Roso"]...
Down: le Moogotron (02"10) sur "Whizz Kid"... la très lourde dette au mentor Bowie qui tempère un peu l'exploit... le chant pénible de Ralphs sur "I'm A Cadillac / El Camino Dolo Roso"...