The Clash: London Calling (1979)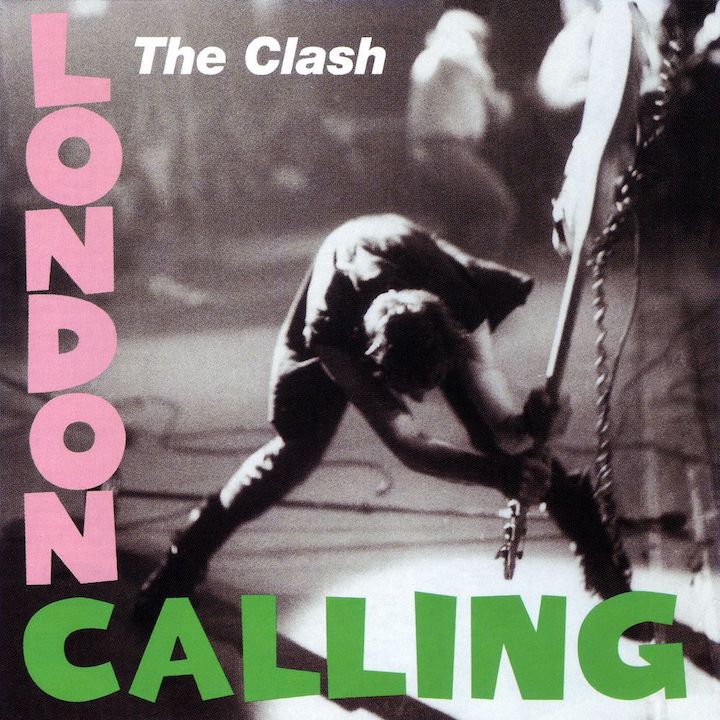 "I realized that the others were getting money for writing songs, and I figured, Jesus, I'd better write some songs if I want to get any money. It's not easy to write when you're competing with Joe Strummer and Mick Jones, but when I came up with the lyrics to « Guns of Brixton », Joe said it was all there..." (Paul Simonon)
Where: Recorded at Wessex Studio.
When: 14 Décembre 1979.
Who: Joe Strummer (vocals, rhythm guitar), Mick Jones (guitar, piano, vocals), Paul Simonon (bass, vocals), Topper Headon (percussion, drums), Mick Gallagher (organ), The Irish Horns (brass)
What: 1. London Calling 2. Brand New Cadillac 3. Jimmy Jazz 4. Hateful 5. Rudie Can't Fail 6. Spanish Bombs 7. The Right Profile 8. Lost In The Supermarket 9. Clampdown 10. The Guns Of Brixton 11. Wrong 'Em Boyo 12. Death Or Glory 13. Koka Kola 14. The Card Cheat 15. Lover's Rock 16. Four Horsemen 17. I'm Not Down 18. Revolution Rock 19. Train In Vain
How: Produced by Guy Stevens
Up: l'entrée menaçante de la basse de Simonon (0"06) et les cris simiesques de Strummer, perdu dans la jungle (1"55 et 2"37), les soli à l'envers (2"09) sur rythmique incandescente et lyrics apocalyptiques ["London Calling"]... le roboratif clin d'œil rockabilly au "Black Leather Rebel", Vince Taylor ["Brand New Cadillac"]... les cuivres skaïsants inattendus ["Rudie Can't Fail"]... l'espagnol de Strummer et Jones ("Yot'quiero y finito, yote querda oh ma côrazon") ["Spanish Bombs"]... l'hommage valeureux et passionné à Montgomery Clift ["The Right Profile"]... un renouvellement créatif constant côté compos avec, cette fois-ci, l'innocence ironique d'une fausse ballade ["Lost In The Supermarket"]... le larsen liminaire et le refrain irrésistible ["Working For The Clampdown"]... les rythmiques skas de Jones et Strummer, la basse tout en indolence funky de Simonon et les lyrics séditieux ("You can crush us, you can bruise us, but you'll have to answer to the guns of Brixton") ["Guns of Brixton"]... les 10 secondes de gimmick (3"21) évoquant le "Ring my Bell" de Anita Wards ["Lovers Rock"]... le sursaut de fierté et les audaces de Headon (1"41 et 1"55) ["I'm not down"]... ce 19e titre du double-album, non mentionné sur la pochette originale car perçu par les musiciens comme trop "commercial" (sic) ["Train In Vain"]... l'hommage rendu au King sur le recto de la pochette avec le cliché (dû à Pennie Smith) de Simonon brisant sa Fender Bass au New York Palladium le 21 septembre 1979...
Down: les nappes de clavier sur "Wrong 'Em Boyo"... le chant résolu mais mouillé et limité de Strummer, vite ennuyeux...